Hair Relaxers: How to Relax Curly Hair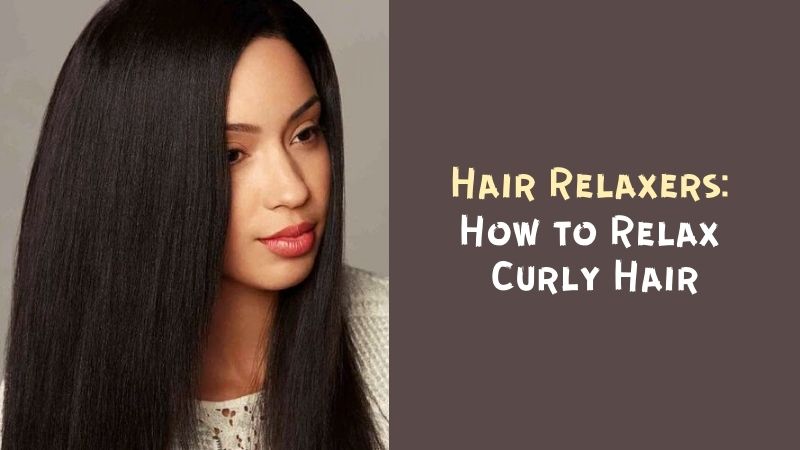 Every woman dreams of making hair smooth and shiny, like that of girls in glossy magazines. Now, it doesn't take much effort to do this. It is enough to perform one of the salon relaxing procedures. Chemical hair relaxing/straightening is most effective. The curls participating in the procedure become even for more than a year. You will have to correct only those areas that grow back from the roots. Let's take a closer look at the advantages and disadvantages of this hair relaxing method. Let's first review the most popular and effective products for hair relaxing 2020.
Best hair relaxers 2020
Below you can see the most popular hair relaxing products.
What is relaxing hair?
Relaxing curls using chemicals occurs on the same principle as the curls of the same name. Hair is treated with a chemical solution.
When working with straightening compounds, it is required to strictly observe the processing technology, safety precautions. You only need to contact an experienced master for the procedure.
Masters of a beauty salon say that the chemical straightening of hair does not always receive positive reviews. This is due to the fact that clients are trying to save money by contacting private hairdressers who do not always have sufficient experience in implementing this procedure. Some people try to do chemical hair relaxing on their own, which is dangerous to health. A master for such a serious procedure should be chosen especially carefully, guided by information about the achievements and reviews of the specialist. The procedure of permanent hair relaxing is complex, it requires multistage, adherence to technology and special devices.
Varieties of procedure
Permanent hair relaxing can be classified according to the type of composition used. Manufacturers today offer several product options.
Hair fixers based on sodium hydroxide. These substances belong to the group of aggressive substances since alkali can corrode the structure of the cortex;
Products based on guanidine hydroxide. They are distinguished by a moderate degree of aggressiveness, they are absent in the composition of alkali. Substances dry out the hair quite a lot, so after using them, you will need to regularly moisturize the curls;
Compositions based on ammonium thioglycolate. These are modern products for straightening strands that act on hair very quickly. Usually, the master uses products from this series for strands that are distinguished by the minimum presence of curls;
ISO amine-based retainers. These are new generation substances that do not contain acid or alkali. They relax your hair and get you rid of split ends;
Means containing ammonium sulfide and disulfide. Such fixators are recommended for weakened hair, as well as colored hair. The result of their use will be a light straightening effect that has a minimum duration.
How to relax hair?
The procedure consists of several stages:
In the salon, the master must choose an active substance suitable for your curls, the choice depends on the degree of their curliness;
The scalp is lubricated with a greasy cream or petroleum jelly in order to avoid burns;
The curls are being prepared. A master applies a special preparation to them, which includes emollients, conditioners, UV filters and proteins;
The master divides the hair into strands and applies the reagent, it is kept for 15–20 minutes;
The hair is thoroughly washed and straightened with a special ceramic iron, then a fixative is applied to fix the result;
The master rinses off the fixative and treats the strands with a remedy to restore the PH level since the reagent contains alkali;
The head is washed with a regular shampoo and treated with conditioner.
The whole process takes 5 to 8 hours. As a result, you can get a very beautiful hairstyle from straight shiny hair, which is now in fashion.
Look at the photo showing hair before and after hair relaxing: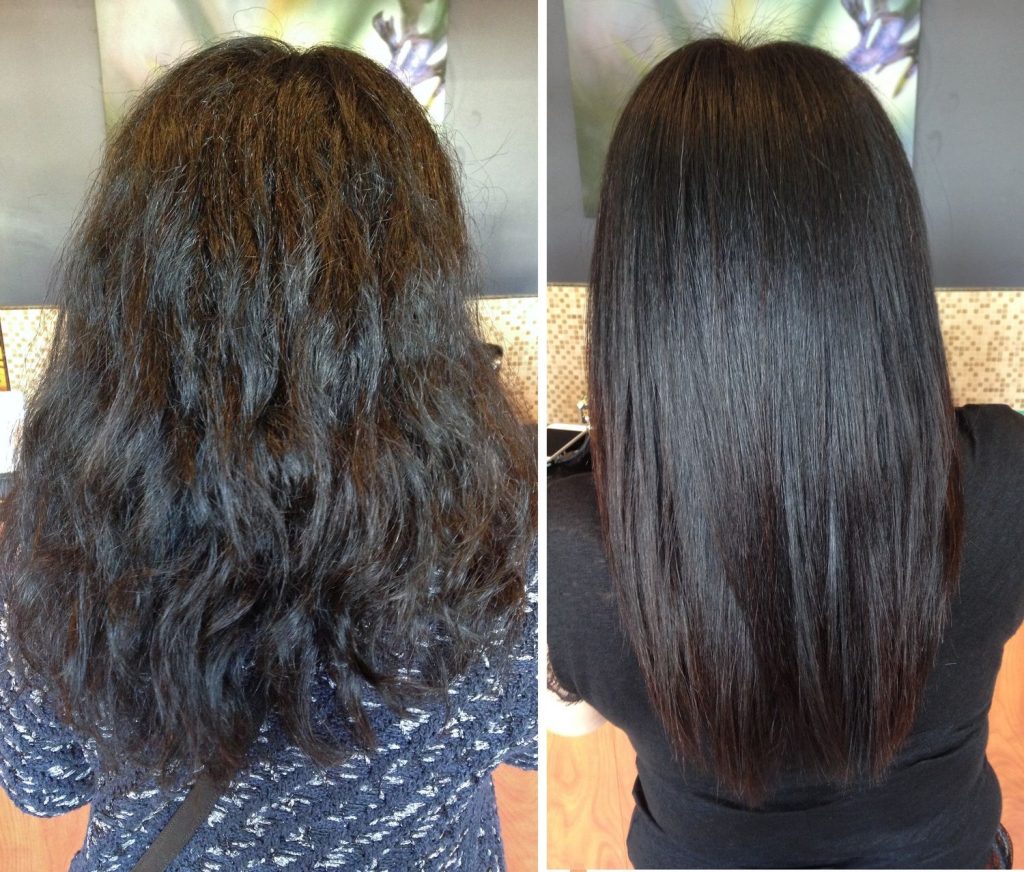 Possible negative consequences
Despite the fact that modern products for hair relax-ing contain natural ingredients, chemical components still cause some harm to hair. It consists in the fact that hair destruction occurs. To return the curls to their original state, you will have to cut them, wait until the effect of straightening completely grows back. After the strands become even, the volume of the hairstyle will noticeably decrease. Exposure to chemistry on hair will require the use of specialized formulations for care, which will entail the need for additional spending.
Home hair relaxing can seriously damage the hair shafts. In addition, chemical substances can provoke scalp burns.
Chemical hair relaxing: advantages and disadvantages
Chemical hair relaxing has both positive and negative reviews but they are not always objective.
So, for example, this procedure always receives positive feed-back from the masters when the master has managed to achieve the desired result. Masters are highly appreciated for the absence of pungent odors, the speed of performing the procedure in 1-3 hours (depending on the length and thickness of the hair), the gorgeous result of straight flowing natural hair.
Negative reviews about chemical hair relaxing can be heard from those who tried to perform the procedure, violated the technology and did not see the final result. The same reviews are left for keratin straightening. Oddly enough, they all say that permanent hair relaxing is harmful and bad, but at the same time, they never saw it and did not do it.
Women also mention the following positive features of hair relaxing:
efficiency (hair remains straight up to 6 months without heat treatment and more than a year with the use of iron);
short duration of the procedure (2-5 hours);
absence of pungent odors and smoke at the stage of the procedure;
the possibility of relaxing previously colored, bleached, chemically curled curls (at least 2 weeks from the moment of exposure);
no special requirements for home hair relaxing care, no special shampoo or mask is needed;
short duration of exposure to the straightening composition (only 5-15 minutes), the hair suffers no more than from ordinary dyeing;
straightens previously performed perm procedures.
Negative reviews are associated with:
high risk of injury (possible skin burns if the technology is not followed);
the complexity of the technological process when performing the procedure (multi-stage);
a change in the quality of hair, requiring "treatment" (regular nourishing and moisturizing effects are required, the same as after dyeing);
contraindications similar to keratin straightening (for example, contraindicated for pregnant and lactating mothers).
Contraindications
Despite the desire to update your image, do not forget about the cases when the hair relaxing procedure can harm your health and appearance.
The procedure is not recommended in the following cases:
allergy to the chemical components of the composition used;
pregnancy, breastfeeding, menstruation;
if the hair is discolored, permed or highlighted;
head skin diseases;
hypertension;
recent serious illnesses.
Hair care after relaxing
Hair after chemical hair relaxing, in any case, needs careful care. Even when using the most expensive products, some of the chemicals still get inside the hair, changing its natural structure.
Hair health is a reflection of how we eat. Therefore, it is important to monitor your diet daily. To keep your hair healthy from the inside, we advise you to use more products such as nuts, eggs, fresh vegetables and fruits, and legumes. While you are dealing with your own nutrition, do not forget about the nutrition of your hair.
You'd better wash your hair with shampoos that do not contain sodium lauryl sulfate. After that, be sure to use a nourishing mask or conditioner for damaged hair, preferably the same brand with shampoo. It is necessary to take care of the hairs until they return to normal.
If you often use an iron, then chemical straightening will not only help you forget about this tool for a long time but will also keep your hair healthy. The effect of the chemical composition is less aggressive compared to the daily use of an iron, which straightens hair by high temperatures, which causes irreparable harm to it.
How to do hair relaxing at home?
If you decide to relax your hair at home, then you should use formulations that are sold by beauty salons or online stores. Traditional methods recommend using vinegar and beer, but this can only achieve a short-term effect.
The chemical hair relaxing kit consists of:
deep cleaning shampoo;
thermal protection cream or spray;
neutralizer;
retainer.
Important! All stages of the procedure must be performed in the same way as in the salon and be sure to follow the instructions and warnings written on the packaging of the composition used.
Chemical hair relaxing vs keratin hair straightening
Straightening with chemical formulations dries hair. It is not recommended to perform it on highlighted and bleached hair, as well as after a perm. Weak, thin strands can be damaged with this method.
Keratin formulations are natural, they are more gentle and there-fore have fewer contraindications. But you will have to perform the procedure more often.
Reviews
The available responses from women who have tried out the salon procedure for chemical hair relaxing are positive. Clients note a significant external curl transformation, due to which any haircut becomes more accurate. As a rule, if you follow all the recommendations regarding subsequent care, the result of straightening will delight you for 5 months.