How to Stop Hair Breakage?
Hair breakage is one of the causes of impossibility to grow long hair. Many women try to find some rules, recommendations, tips, doctors to cope with this problem. We collect several products that may exchange beauty salon treatments. All these products are available on Amazon. The products are from different price ranges. You are welcome to choose one or several products for buying them online.
Products for hair breakage prevention and treatments
What is hair breakage?
Hair breakage is a condition caused by a lack of sebum secretion. Dry hair leads to breakage and loss. This condition may indicate the presence of internal diseases or the consequences of improper care. It is extremely rare that hair fragility is an independent disease – nodular trichoclasia. Due to the variety of reasons, hair treatment should be started only after an accurate diagnosis is stated.
Causes
One of the reasons for hair breakage and loss depends on gender. In men, androgenetic loss occurs. The hypersensitivity of male hormone dihydrotestosterone is responsible for hair loss. Under its action, the hair follicles weaken, the hair becomes thinner, grows more slowly. As a result, it eventually stops growing. The only way to solve the problem is hair transplant.
In women, sensitivity to dihydrotestosterone is also found. Another cause of hair loss and breakage is a deficiency of vitamins, amino acids, trace elements due to strict diets.
The reason for the hair breakage can be inflammatory processes in the gastrointestinal tract associated with latent infections or intoxication, because of living in big cities. Thinning hair often indicates a malfunction of the thyroid gland, so it is important to have an ultrasound scan and blood tests for its hormones (TSH).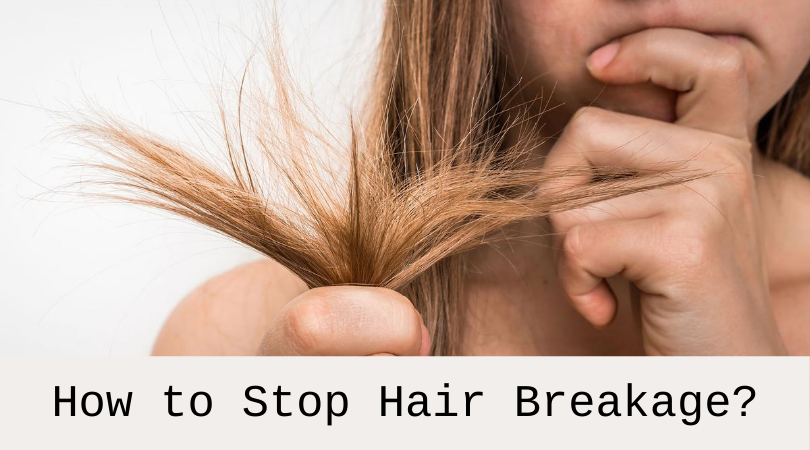 Low progesterone levels are sometimes the cause of hair breakage in women. This is the hormone released within the second half of the cycle. It is also the hormone of pregnancy and bad mood during predmenstrual syndrome. With a deficiency of progesterone, the enzyme becomes more active, stimulating the synthesis of the hormone dihydrotestosterone – the key cause of male pattern baldness.
The list of common causes
The type of hair and scalp indicates the body condition as a whole. So, hair breakage occurs in the following conditions:
lack of iron and other vitamins;
diseases of the gastrointestinal tract;
kidney damage;
chronic infection;
improper hair care;
aggressive effects (colouring, curling, ultraviolet light, cold, etc.);
stress and overwork.
Symptoms and diagnostics
Hair breakage is diagnosed by a doctor visually. The problem is characterized by the following symptoms:
hair dull and lifeless;
they are broken off at different heights;
untidy look.
A trichologist consultation will include:
communication with the patient;
picking up the anamnesis;
trichoscopy (examination of the hair condition on a special device);
biochemical blood test (to identify deficiencies in vitamins and minerals).
You may also need to consult other narrow specialists and additional research.
How to treat hair breakage?
Correction of the hair condition includes measures to treat the underlying disease and the use of medical cosmetics like hair strengthener. The list of necessary medications and procedures depends on the violation cause.
The patient is prescribed a course of vitamins. In some cases, their reception is advisable in the form of injections (in case of disorders of the gastrointestinal tract).
In addition, it is necessary to correct lifestyle and habits (cessation of smoking, abuse of coffee and alcoholic beverages). Nutrition should be balanced, contain the required amount of fats and trace elements. It is extremely important to take the required amount of liquid daily, as the lack of water also affects the hair condition.
In addition to medical cosmetics, various procedures aimed at hair restoration are effective: mesotherapy, cryomassage, etc.
How to prevent hair breakage?
To prevent hair breakage, you should:
monitor your health;
timely treat emerging diseases;
keep a proper diet;
take vitamin complexes;
choose the right hair care;
to minimize aggressive effects on hair (styling products, use of a hair dryer, curling, coloring, etc.).